Aligned goals achieve more with less effort.
According to the many research studies on goal setting, without a doubt, those of you who write your goals and define a plan on how you will accomplish them will achieve far more than those of you who don't. 
We don't need research studies to tell us that – it's just common sense. 
Think about it; if you don't know what you want, you won't write a goal. 
If you do know what you want, and you don't write it, life will intervene, you'll forget about the goal you held in your mind, and before you know it, it's gone.
The more frequently you review your goals and the more you vividly imagine with all your senses, that you have achieved the goal, has also been demonstrated to lead to significantly higher rates of achievement.
There are now several additional research studies that demonstrate the effect your mindset has on your ability to achieve your goals.  At the turn of the century, Henry Ford said, "If you think you can or can't, you're right!" This is as true today as it was back then.
Take time to reflect on this past year's victories and achievements to prepare your mind for the challenges and opportunities that the next year will bring. 
Review your goals from last year and see how close you are to achieving them or how far you've exceeded them. This will help you when you set your goals for next year.
Areas of your life in which to Set Goals
Family (immediate, relatives)
Personal (mental, physical, spiritual)
Social (friendships, networks)
Professional (education, career path)
Financial (short and long term)
Possessions (car, boat, house, computer, bicycle, clothes)
Lifestyle (modern, conservative, country, urban, suburban, sophisticated, stylish)
Align Your Goals
Attempt to align your goals so that they become mutually supportive rather than in conflict with each other. For example, modifying your lifestyle could lead to one that enables greater outdoor activities and helps to achieve a personal physical fitness goal. Whereas, spending all your available time pursuing one goal leaves little energy left for anything else that's important to you.
Write Your Goals
Writing goals helps you focus on what you want. It enables the subconscious mind to find opportunities for you to get what you want. Look at each of the different areas of your life and see what you've got. That will tell you what you're focusing. Where are you focusing your energy?  To attain the greatest levels of achievement, create mutually supportive goals.
Energize Your Goals
Energize your goals by imagining what it will be like when you've achieved them. What would that feel like? See it, touch it, feel it, just as though you already have it. Identify and consistently use positive statements. Say them with emotion while imagining possessing your goal.
Once all your senses memorize your goal, you're ready to write your plan and begin. You may not have all the resources you need to achieve it, but they will make themselves known when you need them. Just be aware they may take a different form than what you might expect.
Review the goals you are currently working toward frequently. Organize, plan, schedule, and implement every action item leading to the goal with as much precision as you can. Review your results and adjust as needed.
Resources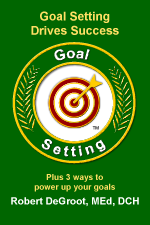 Select this link to preview and buy eBook: Goal Setting for Success
Select this link to eLearning course: Goal Setting
Select this link to connect and follow Dr. Robert "Bob" DeGroot, MEd, DCH on LinkedIn