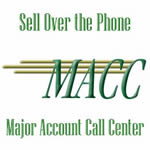 Million-dollar major account selling
Before you say, what you sell is different and can't be sold over the phone, consider these possible scenarios.
The person calling was previously a buyer with another company and is now with a different company. The person calling has already done their research and has chosen what you sell and now needs to work out the details and place the order. Your value proposition is so obvious, your company so credible, and the customer's need is so strong that it's just a matter of working out the logistics.
All of these scenarios are true, and I've personally experienced all of them and many more. So yes, you can sell anything and everything by telephone – even million-dollar sales are possible. My personal best was a $6 million sale of engineer products.
Our Major Account Call Center (MACC) made sales ranging from $25K to $250K and three over a million during our first year. They sold fueling services, mobile maintenance, software, medical devices, aftermarket parts for large turbines, and more.  The MACC became a four-person prototyping center in which we developed the sales process, methods to prevent and preempt objections, and close sales. We then trained the production call centers.
Doing this is not that difficult, it just takes some work and learning on your part. 
First, you must identify the conditions under which someone would buy from you right now over the phone. Like the examples above, that's called low hanging fruit. Do that first so you can go make some money for your company.
Next, identify the supporting materials and communications methods you would need to expand the profile of people to generate your priority prospect list of companies and people to contact.
How you select those additional supporting materials and communications methods is based on which of the ten Buyer Beliefs will be in place with your initial contact strategy and which have to be established through alternative methods.
Let the ten Buyer Beliefs guide you. Once you start trying to sell over the phone, the objections you get will tell you directly which Buyer Beliefs are not getting established. Select the link below in the resources section to review the previous blog regarding these ten Buyer Beliefs or select that blog from the "Blog List" on this site.
There are many ways in which these Buyer Beliefs can be established. Some of these beliefs, capability and credibility, for example, can be initially established by your company name if it's well known and trusted. Easy. One down, nine to go. Plan how each will be set in your sales interactions because if not, you'll get the related objection.
The second challenge to success is to create a sales process that is in the weeds with detailed phases, steps, and action items. That way, you can pinpoint what goes wrong when a sale stops or stalls. Save yourself months of trial and error frustration by selecting the link to the Strategic Sales Plan below. The list of sales process steps is free.
So many steps in the sales process require only slight, but essential modifications. That's why you have to get into the weeds to identify what's working and what's not working.
The next step to success is to meet to debrief every day (initially, then weekly) with your teammates to identify where you and they are having difficulties establishing beliefs and then brainstorm ways to deal with any steps they were having difficulty getting done. This is called Peer-to-Peer Sales Coaching. Yes, there is a link below in the Resources section.
The fourth step is to collect objections and then learn to prevent and preempt them before it becomes necessary to respond to them. See the link below to the Objection Free Selling book for proof of concept.
I understand that selling over the phone is different but not necessarily more difficult. I like it. You may, too, especially if it snows where you live.
Resources
There are several resources you'll need to pull this off. I will be happy to send you the resource list when you're ready. Then, if you need further assistance, I would be happy to help.
There are both eBooks, books, and eLearning courses available by the titles below with links to them elsewhere on this website.
Select this link to connect and follow Dr. Robert "Bob" DeGroot, MEd, DCH on LinkedIn.
Contact me with any questions you might have on how to make this type of process work for you: SalesHelp@SalesHelp.com