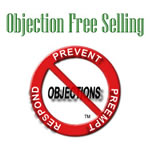 Objection 1 of 85: Not interested.
When does it usually occur? Initial contact.
Probable Cause: Prospect does not believe a need exists.
Objective: Establish a need.
Preemption Strategy three of five:
Go straight to the pain. Ask directly about your Unique Selling Point's (USP) Feature's missing Advantages and Benefits. For example, "How often are you seeing __, __, or __?"
For example, (F) plastic containers (A) won't rust (B), so you don't need a replacement budget due to rust.
You could ask, "Are there any costs associated with that?" "How often do you have to buy new containers to replace those that rust?" "What is your monthly replacement budget?"
Note that these are closed-ended questions that assume the events occur. They let you get a quantifiable number quickly to let the prospect feel the pain, build priority, and establish the initial support for ROI calculations. This strategy means three more categories of objections are on their way to being prevented (Discomfort Felt, Priority, and ROI).
Resources:

This blog's content comes from Chapter 6: Strategies Specific to Each Objection in the Objection Free Selling book.
Select this link to preview and buy the eBook: Objection Free Selling
Select this link to the eLearning course: Objection Free Selling
Select this link to connect and follow Dr. Robert "Bob" DeGroot, MEd, DCH on LinkedIn