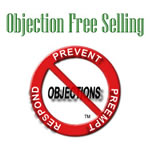 Objection 2 of 85: Already have someone
When does it usually occur? Initial contact.
Probable Cause: Prospect does not believe a need exists.
Objective: Establish a need.
Continuing now with the second of two ways to preempt this objection..
Use the rapport building technique of "finding common ground" to make the point that you both experienced products like cell phones, computers, or cars and sought out new ones to enhance the Advantages and Benefits you received.
Talk about how much these have changed and how much more you can do with them. Emphasize that by making the changes they were able to get more of the Advantages and Benefits they wanted. Then transition to your product, and how they might profit from looking at a different supplier.
Heavy emphasis should always be on the Advantages and Benefits of your Unique Selling Points!
For a telephone cold call, this strategy may have to be used after the first preemption strategy for this objection (select the button above to see the previous blog). It works great as a standalone during a networking event, or email lead.
Resources:

This blog's content comes from Chapter 6: Strategies Specific to Each Objection in the Objection Free Selling book - best-seller for 52 months and # 7 on the list last week.
Select this link to preview and buy the eBook: Objection Free Selling with its 874 objection prevention, preemption, and response strategies for the 85 most common sales stopping objections
Select this link to the eLearning course: Objection Free Selling
Select this link to download the free list of the 85 Most Common Sales Stopping Objections organized by missing "Buyer Beliefs" that cause them.
Select this link to connect and follow Dr. Robert "Bob" DeGroot, MEd, DCH on LinkedIn
Check out the free list of the 85 Most Common Sales Stopping Objections to see what's coming up next.