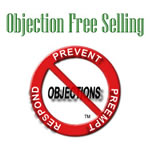 Objection 2 of 85: Already have someone
When does it usually occur? Initial contact.
Probable Cause: Prospect does not believe a need exists.
Objective: Establish a need.
To pick up where we left off with another way to respond to the objection, "Already have someone."
"And that's exactly why I'm calling. Sometimes our company's primary role turns out to be augmenting critical areas not getting met through regular channel suppliers such as ___ and ___ (USPs). Would it be alright to get you some written information about how those areas typically affect ___ operations? Or we could, within the next couple of minutes, get a pretty good idea of how much this is affecting your operation."

For example, suppose your company has Unique Selling Points that would increase your prospective customers' ability to produce a higher quality product faster? Or minimize their investment in stocking inventory or floor plan expenses? Or, ???

Would it matter to the prospect, who is responsible for that area, if they already have a supplier providing something similar but who is not providing that extra speed and quality? Or is it not reducing the amount of capital they're tying up in stocking inventory or floor plan expenses?
Selling through differentiation is how to move past these types of objections whether you're preventing them from entering prospects mind, preempting them before they gain the emotional charge, or responding to them.
What matters is that you have Unique Selling Points that quantifiably meet customer needs that your competitor cannot. Of course, they have Unique Selling Points as well. So, it would be in your best interest to identify and introduce yours first.
Resources:

This blog's content comes from Chapter 6: Strategies Specific to Each Objection in the Objection Free Selling book.
Select this link to preview and buy the eBook: Objection Free Selling with its 874 objection prevention, preemption, and response strategies for the 85 most common sales stopping objections
Select this link to the eLearning course: Objection Free Selling
Select this link to download the free list of the 85 Most Common Sales Stopping Objections organized by missing "Buyer Beliefs" that cause them.
Select this link to connect and follow Dr. Robert "Bob" DeGroot, MEd, DCH on LinkedIn
Check out the free list of the 85 Most Common Sales Stopping Objections to see what's coming up next.