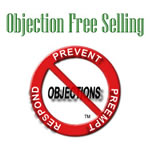 Objection 3 of 85:We're satisfied with our current supplier
When does it usually occur? Initial contact.
Probable Cause: Prospect does not believe a need exists.
Objective: Establish a need.
So by now, you should begin to see a pattern in how to prevent, preempt, and respond to these initial contact objections triggered by the prospect not seeing a need.
Of course, you may, by sheer luck, run into a prospect who's not satisfied with their current supplier. In fact, for most common businesses, customer service is so bad, the prospect might be glad you called. What? Bad customer service in this day and age? Just think about the suppliers you engage, and well, you get the point. In fact, our Customer Service Excellence eLearning courses are bestsellers.
The more common objection, spoken or not, is that the prospect will be satisfied with their current supplier. So, the first overall strategy is designed to get the prospect to recognize that there might be weaknesses in their current supplier's product, service, or business strategy by pointing out your Unique Selling Points.
You know the drill. Your competitor's strengths create objections for you. You must neutralize them or face the objections. Your competitor's weaknesses, where you have strengths, are your Unique Selling Points (USPs). Focus the topics of conversation on your strengths without mentioning your competitor's weaknesses.
When possible, introduce your USPs on the front side of the contact, whether over the phone, in your "elevator speech," or via some email or messaging mechanism such as LinkedIn. You can find scripting for this in the previous blog posts. Select the list button above for links to all previous blogs.
Resources:

This blog's content comes from Chapter 6: Strategies Specific to Each Objection in the Objection Free Selling book.
Select this link to preview and buy the eBook: Objection Free Selling with its 874 objection prevention, preemption, and response strategies for the 85 most common sales stopping objections
Select this link to the eLearning course: Objection Free Selling
Select this link to download the free list of the 85 Most Common Sales Stopping Objections organized by missing "Buyer Beliefs" that cause them.
Select this link to connect and follow Dr. Robert "Bob" DeGroot, MEd, DCH on LinkedIn
Check out the free list of the 85 Most Common Sales Stopping Objections to see what's coming up next.