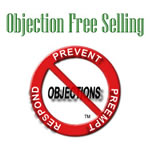 Objection 3 of 85:We're satisfied with our current supplier
When does it usually occur? Initial contact.
Probable Cause: Prospect does not believe a need exists.
Objective: Establish a need.
During your opening remarks, state that you want to "get them some written information" about how your company has solved costly and critical issues related to ___, ___, and ___."
State three areas where you are strong (USPs), your competitor is weak, and typical customers in this market segment have needs. Look to how your USPs solve problems, carry out functions that meet their four business needs: increase your customers' ability to make money, save money, enhance or strengthen image with their customers, and reduce risks.
Follow this by asking a question, "Is now a good time to quickly verify some information, or should we set a phone appointment for later on today?"
Now you can conduct your brief phone interview exploring needs you can meet that your competitor cannot. Focus on areas related to how your USPs can impact their four business needs in how they make their money, make their products or services more competitive, or complete the strategic initiatives in their business plan.
If any of the terms in this blog are unfamiliar, select the "Blog List" button above to find the related blog.
Resources:

This blog's content comes from Chapter 6: Strategies Specific to Each Objection in the Objection Free Selling book.
Select this link to preview and buy the eBook: Objection Free Selling with its 874 objection prevention, preemption, and response strategies for the 85 most common sales stopping objections
Select this link to the eLearning course: Objection Free Selling
Select this link to download the free list of the 85 Most Common Sales Stopping Objections organized by missing "Buyer Beliefs" that cause them.
Select this link to connect and follow Dr. Robert "Bob" DeGroot, MEd, DCH on LinkedIn
Check out the free list of the 85 Most Common Sales Stopping Objections to see what's coming up next.