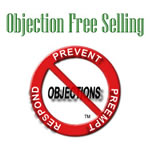 Objection 3 of 85:We're satisfied with our current supplier
When does it usually occur? Initial contact.
Probable Cause: Prospect does not believe a need exists.
Objective: Establish a need.
In the past four blogs, we provided effective ways to PREVENT the objection from entering the prospect's mind. If the product you sell is considered common, or a commodity, then you know this objection is already queued up in the prospect's mind - too late to prevent it. Your next best choice is to bring it up and answer it before it can take on the emotional power of an objection.
Of course, we all know it can be a hassle for prospective customers to change suppliers, so you're working with existing inertia that you will need to overcome.
Bring the "big bang" Benefits up-front. Don't hold back. But, before you do, make sure your credibility is clearly established first. For example, "We're the company (firm, organization) that _____."
When we owned and operated the Major Account Call Center for Shell Fleet Services, the name alone was enough to get the fleet managers to take the call. The credibility was there and that lead to millions of dollars in sales over the phone for fleet maintenance, fleet fueling, fleet management software, and other products and services.
Insert what you're known for or would like to be known for. Make it a primary Unique Selling Point (USP) about your company. Often these USPs are in your company's slogan or core value.
For example, one of our Unique Selling Points is that we're the only company in the sales, sales management, and customer service training and coaching space that can claim that our courses are based on twenty-five best-selling books in five countries. The book this information is being adapted from is currently over four years on the bestselling list. How's that for credibility? Would you like to get quickly hear how we're ________? That blank is then filled in with a major USP tied to the prospect's area of responsibility.
Rule number one for this objection: Some of the first words out of your mouth or flowing from your pen (email, text, IM, ad, etc.) should point to something you do that your competitors don't do. If you're the only one doing it, then prospects can't say they already have someone.
Here are some famous slogans that many of you will recognize immediately.
We're the company that puts you in good hands
We provide the quicker picker-upper.
We're mmm, mmm good.
We the company that asks, what's in your wallet,
We ask, would you like to have it your way?
I'm calling from the happiest place on earth
We're stronger than dirt.
If any of the terms in this blog are unfamiliar, select the "Blog List" button above to find the related blog.
Resources:

This blog's content comes from Chapter 6: Strategies Specific to Each Objection in the Objection Free Selling book.
Select this link to preview and buy the eBook: Objection Free Selling with its 874 objection prevention, preemption, and response strategies for the 85 most common sales stopping objections
Select this link to the eLearning course: Objection Free Selling
Select this link to download the free list of the 85 Most Common Sales Stopping Objections organized by missing "Buyer Beliefs" that cause them and to see the list of upcoming blogs.
Select this link to connect and follow Dr. Robert "Bob" DeGroot, MEd, DCH or SalesHelp with Robert P DeGroot on LinkedIn