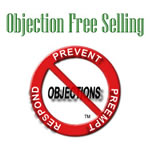 Objection 3 of 85:We're satisfied with our current supplier
When does it usually occur? Initial contact.
Probable Cause: Prospect does not believe a need exists.
Objective: Establish a need.
The second strategy to preempt this objection is to get the prospect to realize that they have changed suppliers on any number of products and services in the past and have benefited from it.
Talk about how happy you were with the car, computer, phone, and so on, when you first got it, and then how that changed as new capabilities you wanted becoming available but the supplier you were happy with couldn't provide.
For example, "So what do you do when you really want something you can't get from your current supplier?" Now transition to your Unique Selling Point's missing Advantages and Benefits and ask, "What are your greatest concerns about not having the ability to ___ (missing USP)?"
Resources:

This blog's content comes from Chapter 6: Strategies Specific to Each Objection in the Objection Free Selling book.
Select this link to preview and buy the eBook or Paperback: Objection Free Selling with its 874 objection prevention, preemption, and response strategies for the 85 most common sales stopping objections
Select this link to the eLearning course: Objection Free Selling
Select this link to download the free list of the 85 Most Common Sales Stopping Objections organized by missing "Buyer Beliefs" that cause them and to see the list of upcoming blogs.
Select this link to connect and follow Dr. Robert "Bob" DeGroot, MEd, DCH or SalesHelp with Robert P DeGroot on LinkedIn