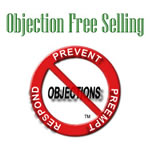 Objection # 4 of 85:Don't need it.
When does it usually occur? Initial contact.
Probable Cause: Prospect does not believe a need exists.
Objective: Establish a need.
Review your Competitor Analysis to select at least three Unique Selling Points (USPs) to orient the prospect during your opening remarks. Remember, the prospect only knows that what you're offering sounds a lot like what they're already getting from your competitor. They don't know that you have Unique Selling Points that help meet those needs better, and help them meet needs they didn't know they had or that those other needs could be filled.
For example, "I'd like to get you some information on how our company has solved some costly and critical issues related to ___, ___, and ___ (USPs). Is now a good time to quickly verify some information (slight pause to see if they answer, and then if not) or, should we set a phone appointment for later in the day?"
Resources:

If you want a shortcut to the top of the sales force, invest $9.95 for the eBook or $19.95 for the paperback. Carry it with you. Tab the pages, make your own notes, and start your own sales objections strategy book for the specific objections you get for what you sell. Make flashcards. I did.
This blog's content comes from Chapter 6: Strategies Specific to Each Objection in the Objection Free Selling book.
Select this link to preview and buy the eBook or Paperback: Objection Free Selling with its 874 objection prevention, preemption, and response strategies for the 85 most common sales stopping objections
Select this link to the eLearning course: Objection Free Selling
Select this link to download the free list of the 85 Most Common Sales Stopping Objections organized by missing "Buyer Beliefs" that cause them and to see the list of upcoming blogs.
Select this link to connect and follow Dr. Robert "Bob" DeGroot, MEd, DCH or SalesHelp with Robert P DeGroot on LinkedIn