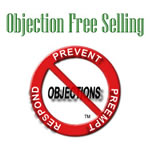 Objection # 5 of 85:We do it internally with our own people.
When does it usually occur? Initial contact.
Probable Cause: Prospect does not believe a need exists.
Objective: Establish a need.
PREVENTION STRATEGY 2 of 5: During your initial research of the company, learn who competes with you. Conduct a sales style competitor analysis. Internal competition must also be analyzed.
Don't be fooled by department names or even titles. It's not uncommon for someone to be in a department with a title that represents what you can provide. It may be that what they do is manage the process, rather than carry it out themselves. It may be that they hire and manage the contractors such as yourself who actually do the work.
Professional, trade, and industry associations are a good source for networking and for getting this type of information.
If they indeed do carry out the work that you want to provide then map the processes the internal competition uses to find the holes in what they do. You might even want to draw a flowchart. Your initial sales objective is to go after a "piece of the pie."
Resources:

If you want a shortcut to the top of the sales force, invest $9.95 for the eBook or $19.95 for the paperback. Carry it with you. Tab the pages, make your own notes, and start your own sales objections strategy book for the specific objections you get for what you sell. Make flashcards. I did.
This blog's content comes from Chapter 6: Strategies Specific to Each Objection in the Objection Free Selling book.
Select this link to preview and buy the eBook or Paperback: Objection Free Selling with its 874 objection prevention, preemption, and response strategies for the 85 most common sales stopping objections
Select this link to the eLearning course: Objection Free Selling
Select this link to download the free list of the 85 Most Common Sales Stopping Objections organized by missing "Buyer Beliefs" that cause them and to see the list of upcoming blogs.
Select this link to connect and follow Dr. Robert "Bob" DeGroot, MEd, DCH or SalesHelp with Robert P DeGroot on LinkedIn